Order Your Pet-Paw in 3 Easy Steps:
1. Place your order below. Don't forget to check out our "Foundry" page for more castings for sale.
2. Purchase an impression kit at the bottom of this page *sold with purchase of Pet-Paw only*
or make your own (see "Impression Process" page).
3. Send your impression to us as soon as possible:
Pet-Paws
20421 SR 194
Pullman, WA 99163
Please see the "Impression Process" page before placing your order to learn how to make the "perfect" impression.

Expect to receive your Pet-Paw approximately 6-8 weeks after we receive your impression.
Multiple paw orders can take longer. Orders cannot be rushed.
Original impressions, playdough, and containers will be returned upon request - additional postage may be required. Scroll down to the end of this page to buy additional postage if you would like to receive your origninal impressions back. Additional postage is not necessary if you ordered a small Pet-Paw and your impression kit will fit into a small flat rate Priority mail box because both items will fit in this size box.
Custom Pet-Paws: do you want a heart around your paw, or do you want your small cat paw in a circle shape? I can make custom paw shapes, just ask!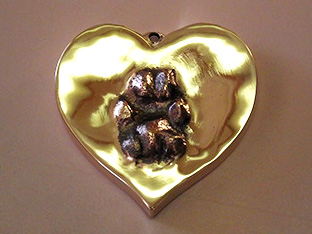 Heart shaped cat Pet-Paw
Do you have a plaster or clay impression? I can make a Pet-Paw from your existing plaster cast or hardened clay impression. I will need to spray the impression/cast with shellac and there may be some discoloration. See the "Impression Process" page for more information.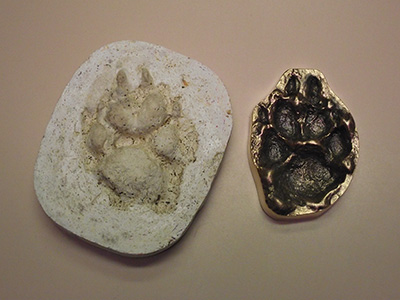 Plaster cast made from a print in the yard
and resulting Pet-Paw
QUESTIONS? Feel free to call me or email: Tracy 509-553-3842 tracy@starsunmoon.com, or visit our frequently asked questions page.
Please make sure you check your email for messages about your Pet-Paw. If we send you an email, it will be from tracy@starsunmoon.com - don't let our important messages go to your junk email folder!
---
Remember....your Pet-Paw is only as good as your impression!
Make a good impression and please don't make it too deep.
Cats: 1/8" to 1/4" deep
Small dogs: 1/4" deep
Large dogs: 1/4" to 3/8" deep
This is especially important when ordering a Pet-Paw Set because the two paws must fit together. If the claws are too long, I will "trim" them back in the wax stage.
Aslo, make sure to leave at least a 1/2" margin all around the impression. Do not make the impression too close to the edge of the container.