The Pet Paw Print Impression Process
A step-by-step procedure on how to get the perfect impression of your pet's paw print.
And everything you will need to know about getting a good impression.
First, a word on impression materials:
Play-doh, home made or store bought (any color), is my preferred material to use for impressions. Play-doh is softer than clay so the paw can sink into the material easily with very minimal pressure.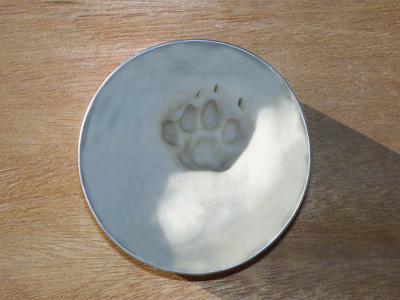 A cat paw impression using home made Play-doh.
A catfood can makes a great impression container for a small paw.
Don't forget the lid!
Play-doh also captures incredible detail.
Press your finger into some Play-doh and look at your resulting finger print!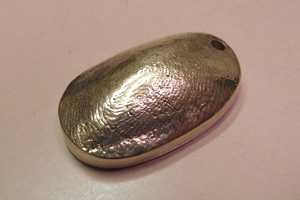 Yes, I can make you a finger print pendant! See my "Foundry" page.
Other impression materials:
Although Play-doh is my favorite, I can make a Pet-Paw from ANY impression material. If you have an old plaster or clay impression that you would like to have a Pet-Paw made from, I can do it. But, there are a few things to consider:
1. The impression could get lost in the mail. If your impression is a sacred item, then it may be risky to send it in the mail.
2. I will pour hot wax into the impression. To keep the wax from sticking to the impression, I will have to coat the impression with a release agent (shellac, saddle soap, vaseline, or vegetable oil) which may stain the impression. The wax can stain the impression also.
3. There is a chance the impression could get damaged when the wax pattern is removed. Wax really sticks to some materials such as Crayola Model Magic, plaster, and clay because they are fairly porous. My success rate with using these kinds of impressions is pretty high. I have had minimal damage.

An impression made of Crayola Model Magic material.

An impression made of plaster taken from a print

in the back yard.
Key Points for a successful impression resulting in an awesome Pet-Paw:
1. Play-doh must be smooth, flat, and level. Play-doh should be packed into the container so if you flip it upside down, the play-doh will stay stuck to the bottom of the container.
2. Paw impression depth should be 1/8" to 1/4" for cats and small dogs and 1/4" to 3/8" for large dogs. Dog print impressions should always show the claws. Claws in cat impressions may or may not be seen.
3. Leave a minimum of 1/2" margin between the paw impression and the sides of the container.
4. Label your impression container and lid with your name and your pet's name.
Remember, what you see in your impression is what you get in your Pet-Paw.
If you are unsure if your impression is a good one, email a photo of your impression to: tracy@starsunmoon.com and I will take a look and let you know if it will work.
Continue reading below for more details on making a good impression.